We caught up with Noel before his comedy show, In Case You Missed It at Bournemouth Pavilion Theatre on Saturday 19 October to ask him a few questions.
Bournemouth Pavilion Pantomime regular, Noel Brodie is back for this winter's pantomime, Aladdin, which is packed full of everything you'd want in a pantomime including laugh-out-loud comedy, stunning scenery, beautiful costumes and of course – a flying carpet!
Noel is starring as Aladdin's brother, Wishee Washee, with his mother, Widdow Twankey, played by David Ball.
Tell us about your show In Case You Missed It – Is there a theme to it?
"The theme of my show is simply my take on the world, my observations on popular culture, being a working dad, comedian and life on tour with Harry Redknapp."
You've been touring with Harry Redknapp – what's that been like?
"The tour with Harry is great! We've become good friends. Often, on stage I forget we're doing a show being watched by thousands of people and think I'm just chatting football with my mate!"
As a performer, do you have any pre-stage rituals that you must do before you head out on stage?
"I don't really have any pre-stage rituals other than a lot of pacing!"
Last winter you were Silly Billy in Sleeping Beauty, and this year you're playing Aladdin's brother Wishee Washee. What are you most looking forward to about playing Wishee Washee?
"The thing I'm most looking for about playing Wishee Washee is that he's very physical with some great slap stick moments. That and the family dynamic between Wishee, his brother Aladdin and their mum, Widow Twanky, make him a real joy to play."
If there was one positive message to live by, what should it be?
"I live by this. Have time for everybody, however brief, you could make someone's whole day just by saying hello!"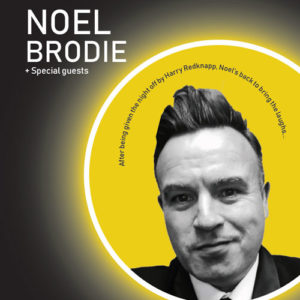 Catch Noel in Aladdin, at Bournemouth Pavilion Theatre from Saturday 07 December 2019 – Sunday 05 January 2020!